The SmallSat Revolution
It has been an expansive year for the small satellite industry. Planet Labs led the way, raising $52 million early in the year and launching their first flock of nanosats from the ISS. Planet Labs has since announced over 100 smallsats in the next 12 months, and they promptly earned that confidence with an extremely quick rebound after losing an entire flock at the end of October. A number of other companies made their mark this year as well, including
Terminal Velocity
,
Clyde
, 
Digital Solid State Propulsion
,
Aerojet Rocketdyne
, and many others. Finally, a congratulations to
Nanoracks
for progress on the resolution of their launch anomaly, and to
Skybox
, which was acquired by Google for $500M earlier in the year.
— Assorted Press Releases
Coming Soon To A State Near You
The journey to space requires spaceports to launch rockets from. In order to bypass government bureaucracy, commercial spaceports are necessary for ease of access and use. Spaceport America, located in the New Mexico desert, has finished construction and to date has had 21 launches from it's facility. Its main customer is currently Virgin Galactic and its White Knight Two. SpaceX has also signed a three year lease at Spaceport America starting in May 2013 for work on the Falcon 9R after low altitude testing concludes in Texas. However, SpaceX has additional plans for a launch site, as they
announced
this year that they will be building a spaceport in Brownsville, TX where SpaceX plans on launching dozens of satellites yearly.
— Assorted Press Releases
You Can't Take the Sky From Me
The sudden abundance of smallsats doesn't do much good if they can't get off the ground, and these folks know it. Rocket Lab, Ltd.unveiled their Electron rocket this year. MISHAAL successfully tested their launch engine. Generation Orbit – the winner of last year's SFF business plan competition – has completed a system requirements review for their GOLauncher1, and has successfully conducted the first captive carry test of their flight experiment testbed (GO-FET). The new kid on the block, Firefly Space Systems, have announced their Alphalaunch vehicle and signed on Shey Sabripour, the former Director of Spacecraft Design at Lockheed Martin as CTO.
— Assorted Press Releases
For The Alliance
A major partnership was formed this year after the successful debut of Blue Origin's
BE-3
in December 2013. United Launch Alliance and Blue Origin have begun working together to address the lack of a high-powered domestic engine to replace the ancient and overused Russian RD-180. The agreement includes a 4-year development process, a full-scale test by 2016, and a flight demonstration by 2019. Space Frontier Foundation anxiously awaits further developments and wishes both companies continued success in the new year.
— Press Releases from Blue Origin and ULA
There's No Space Like NewSpace
A busy year as ever for SpaceX, as it not only won the 2.6B commercial crew transport contract from NASA, but it also continues it's success with commercial resupply missions. The company concluded its 4th successful commercial resupply mission this year with a 5th slated for early January 2015. The Dragon V2 used for commercial crew will have the ability to carry up to 7 passengers per trip, at a total cost of $140 million. Since NASA only plans on sending 4 astronauts at a time this puts the cost at $28 million per seat with the rest of the space used for pressurized cargo instead. SpaceX also continues to develop its rocket reusability platform and announced an autonomous barge for takeoff and landing that will save the reusable rocket fuel and thus cargo capacity.
The Swan Is Still Flying
Although Orbital Sciences has suffered a major hiccup in October, they have had a tremendously successful year over all. Orbital's
Cygnus
module successfully began its ISS resupply missions this year. Capable of hauling up to 2000lbs of equipment and supplies, there are plans for an extended future version of Cygnus that will be able to handle 2700lbs. Orbital still has 5 resupply missions to complete, and have been hard at work reestablishing launch capability. Orbital has expressed that they will be accelerating the development of an upgraded Antares, likely with more modern engines. Finally, Orbital and ATK have stated interest in a
merger
. Though they've provided stockholders some extra time to vote due to the Antares loss, Orbital stock has rebounded quickly and both companies remain confident that the merger should proceed, expecting the transaction to close in February.
— Press Releases from Orbital Sciences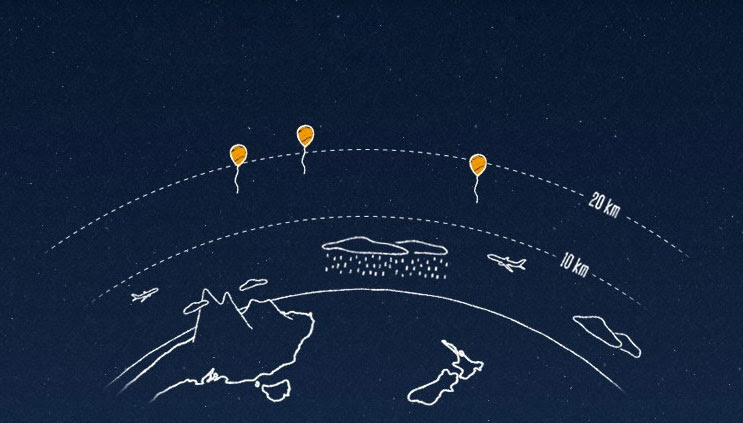 Worldwide internet is a hot topic and many commercial companies are making inroads to this problem using high altitude balloons or near-Earth orbit satellites. Google is progressing rapidly with its project Loon, seeing 10x improvements since last year. The goal is for the balloons to transmit Internet to rural areas as well as fill in blank spots in coverage with the balloons lasting 100 days at 60,000 ft. Google has also hinted that it plans on leveraging its acquisitions of Skybox and Titan Aerospace to connect the last few billion people to the internet. Another company,
WorldVu
Satellites Ltd. plans on blanketing the world with up to 640 satellites, weighing 125kg a piece. Working closely with SpaceX, who is rumored to be the launch partner, WorldVu has submitted an RFP for manufacture of the satellites this year, and initial estimates of the cost including launch are put at $1.5B.
— Press Releases from Google, Skybox, WorldVu
Following SpaceMETA's success in raising $10 million in March, the Google Lunar XPRIZE (GLXP) team SpaceIL has received a $16.4 million donation from the casino magnate Sheldon Adelson and his wife. The team estimates that the entire project will cost around $36 million and hopes it will spark an "Apollo Effect" that will inspire the next generation of scientists and engineers in Israel. Another XPRIZE team, Astrobotic, developed a mobility testbed earlier in the year, and they recently received a combined $750,000 in prizes for milestone tests.
— Article by CNET
Hard To Beat The View
A height record was smashed this year when Paragon Space Development Corporation hoisted Google's Senior Vice President of Knowledge, Alan Eustace, to the edge of space and released him into freefall. Wearing a custom pressurized space suit developed by ILC Dover, Eustace hit 822 mph and is now the second person in history to achieve supersonic velocity outside of a vehicle. Shortly after this successful demonstration, two of Paragon's co-founders, Jane Poynter and Taber Maccallum left the company to lead the edge-of-space-tourism company, World View Enterprises. [
video
]
— Press Releases by Paragon and World View
You Want The Moon? Just Say The Word…
The Lunar Cargo Transportation and Landing by Soft Touchdown (Lunar CATALYST) initiative will partner NASA with three companies to help them advance robotic lunar lander capabilities that could deliver payloads to the surface of the moon. The companies, Astrobotic Technologies of Pittsburgh, Pa., Masten Space Systems Inc. of Mojave, Calif. and Moon Express Inc., of Moffett Field, Calif., will not only develop capabilities that could lead to a commercial robotic spacecraft landing on the moon but also potentially enable new science and exploration missions of interest to NASA and to broader scientific and academic communities over an estimated 3-year period.
–Press release from NASA